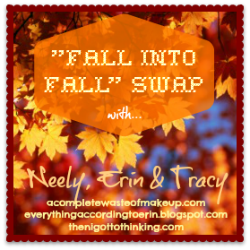 I'm so excited to announce I will be participating in my very first blog swap!! It's called Fall Into Fall swap which is, of course, fall themed. Basically what happens is you get pair up with another blogger and you mail each other a package of goodies! Some ideas would be: candies, nail polish, makeup, starbucks gift cards, maybe a scarf..etc. I believe most of these other girls are American so I'm kinda excited to get my partner some Canadian things that might be new to them.
If anyone is interested in joining please visit
A Complete Waste of Makeup
for more info!